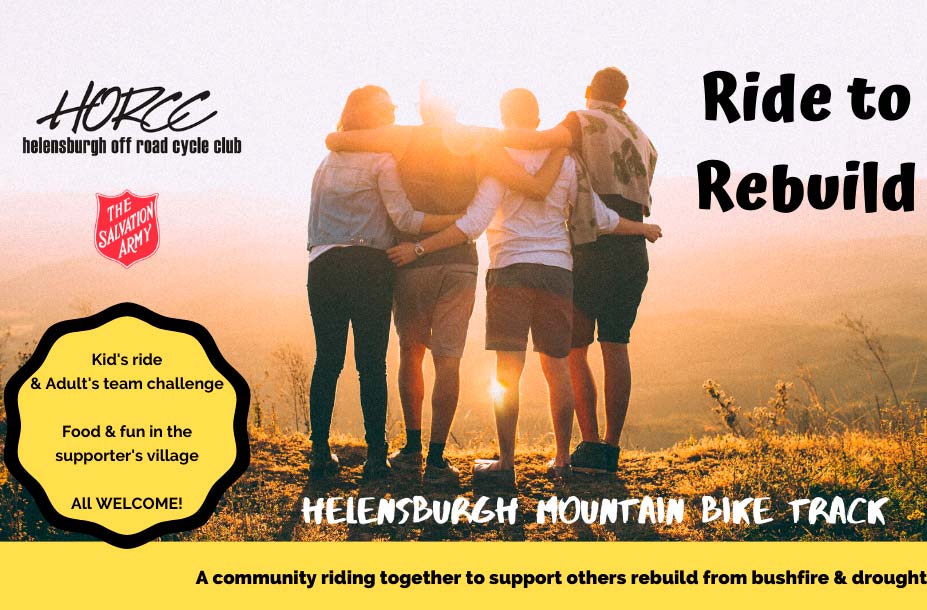 Saturday 6th March 2021
Helensburgh Mountain Bike Track
Moved to respond to the devastation caused by bushfire and drought, we have partnered with the Salvation Army to raise funds to provide relief to affected communities and are inviting anyone interested in mountain bike riding to join in!
100% of the funds raised by the event will go to the Salvation Army to assist their work in areas where it is needed most.
On the day there will be a ride for the kids (gold coin entry), and an adult's team challenge. Teams of up to 4 adults will ride in relay style for up to 6 hours.
Latest information is available at:
https://www.facebook.com/events/1094928294199723/
To register & participate:
We have simplified the registration process; HORCC will now arrange for the funds to be transferred to the Salvos. So, to register, make sure you put your team name and "Rebuild in the description line.
Deposit $100 (per team) to Helensburgh Off Road Cycle Club Account no.: 200700685 BSB: 641800 Description: Rebuild TeamName
Come along with your team and supporters on the day!
Please note that this is a community ride, not a race.